The Post-Match Pint
Posted by admin on 3rd December 2015
Words by Nick Frith
There are many reasons people love playing 5-a-side. There's the weekly workout leaving you covered in sweat with a quiet feeling of satisfaction, or the chance to emulate your favourite player and (try to) impress everyone with your skills.
In my mind, however, there is one reason really stands out; the social element. A great excuse to meet up with your mates, enjoy some football and then settle down for a post-match pint. Once you've managed to get over the fact that you've just been beaten by 4 men, you can begin to enjoy your surroundings. With that in mind, it's important to make sure the surroundings are the best they can be! London has such a selection of pubs so it is important to make the right choice, so here's our league-by-league guide to where to get your post-match tipple.
Battersea 6-a-side
Perfectly located on the short stroll from our league venue Newton Prep School to Battersea Park Station is the fantastic Masons Arms. It's a regular haunt for teams playing in our leagues there, and on arrival you can see why! Extremely welcoming interior with comfy seating makes it perfect for a winter's evening, whilst the beer garden is an equally good option on a hot summer's day. Head to their website to pick up a free pint on your first visit – if that doesn't persuade you I don't know what will.
Battersea 5-a-side
At the other end of Battersea Park Road you'll find our other league in SW11, which has some equally good locations for your post-match analysis to take place. Our pick would be The Lost Angel. More than just a pub, the eclectic bar has both indoor sofas and a heated garden area, so is equipped for all seasons. What makes The Lost Angel even more inviting is the fact that all of our teams get 15% off all food and drink!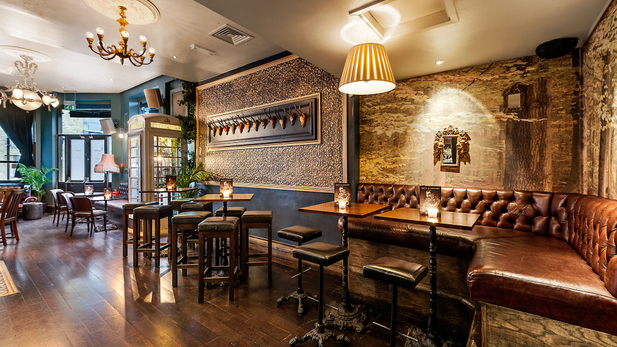 Brixton
We've got a 4 different venues in Brixton, as well as our offices, so we well aware of the excellent food and drink on offer! There is something for everyone and it would take far too long to list all of our favourites – for food it's hard to beat Brixton Village, with a huge selection of tasty treats to choose from. A couple of drinking establishments worth mentioning are found opposite each other on Coldharbour Lane, Market House and The Prince of Wales. Both are equally adept for a quick pint or late night partying.
Clapham Junction
A short walk from our fantastic 3G pitch at Clapham Junction is an equally fantastic pub, The Plough, situated in a great spot on St John's Hill. This is another versatile pub with plenty on offer, including a gift wrapping station during December – great excuse for a quick drink! Other favourites around Clapham Junction include The Northcote and The Merchant.
Fulham
Our league on Eel Brook Common in Fulham takes place on a Thursday night, which makes a post-match pint pretty much compulsory! There's plenty of options around Fulham Broadway and Parsons Green – our favourite is The White Horse. The beer selection in here is pretty impressive, 8 cask ales, 135 bottled beers and they even recommend a beer for each dish on their menu. Another option is Brogan's near Fulham Broadway, an Irish bar which is always showing live sport!
Clapham South
Clapham is full of great pubs and bars, and one of our favourites is The Avalon. It's conveniently located between our league venue and Clapham South station on Balham Hill, and is a great place to wind down post-match, offering great food and drink as well some excellent screens for watching Champions League action. And if you don't want to bump into your opposition after they've just put 10 past you, then you can hide in one of The Avalon's three beer gardens!
London Bridge
With trains at London Bridge Station being about as reliable as England at a World Cup everyone has had 30 minutes to kill after a match at one of our London Bridge leagues. And even if you're getting on the tube, don't let that drag you away – SE1 has a fantastic selection of watering holes. In the summer months, the historic beer garden at The George Inn takes some beating. It's the oldest pub in London, and if it was good enough for Charles Dickens then it's good enough for us! An alternative option in the winter months is Wheatsheaf. This subterranean boozer has a wide selection of real ales and is very inviting on a cold winter's evening.
Marylebone
For beer lovers, there is one clear choice for your post-match tipple after a game in our Marylebone league. The Globe is just 2 minutes from Marylebone station, and has a wide range of craft beers to choose from. They look after our teams really well, with some great end of season offers. Punters often pour out onto the streets, and with a new kitchen opening soon its popularity will only increase!
Shoreditch
Our new Shoreditch league is kicking off in January, so we've done some research to find out where to send teams after their first game! For anyone who wants some more football action after their game, then Bar Kick is the place to head. Beer and table football? Perfect. If you don't fancy the walk down Kingsland Road, then The Macbeth is the place to go. It's a great venue hosting loads of live music, as well as some great beers.
Canary Wharf
Another of our new leagues, Canary Wharf has a good selection of venues for post-match refreshments. Our recommendation has to be The Parlour, slap bang the in the middle of The Wharf. Great food and drink, and always full of suits having an after work drink, which makes for a great atmosphere. The boys behind the bar used to play in our London Bridge league, so they know a thing or two about 5-a-side as well!
Have we missed out your favourite? Get in touch and let us know where your team likes to go for their post-match pint!